WELCOME TO THE
HOTEL BELLMOOR AT DAMMTORPALAIS IN HAMBURG
Be inspired by Hotel Bellmoor´s atmosphere whether you are on business or taking a break.

Experience a feeing of times gone by mixed with a modern atmosphere to make you feel at home. Spoil yourself with a visit to Hotel Bellmoor where you will be treated as an individual, with individual service.

Let yourself be charmed by the city that is called " the gateway to the world". After a hearty breakfast in our dining room with its spectacular view of Hamburg, experience the life of the city - waiting for you just a few walking minutes away.
ROOMS
Get an insight into our rooms, decorated with attention to details.
MORE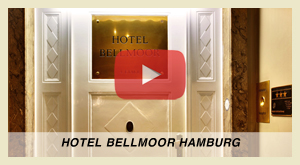 HOTEL-FILM
Take a few minutes and take a virtual tour through the hotel.
PRICES
Good things don´t have to cost a lot.

Prices of accommodation:
Single room seasonal € 70 - € 116
Twin room seasonal € 94 - € 175

All prices includes breakfast.
PRESS
Hamburger Abendblatt, 2. June 2004

Out of the ordinary: this one-time townhouse built for the wealthier classes in Moorweidenstraße, is an insider tip.
By Kristina Johrde

Camomile if a guest has tummy-ache; the lovelorn are served with tea and sympathy, and if a Muslim guest wants to pray, the owner will roll out his oriental rug in the foyer. "Personal service is my concept", says Jochen Rolcke (43) from Hotel Bellmoor in Moorewidenstraße. Bellmoor Hotel, a little gem between the Alster and the city, in an area where luxury hotels dominate.

Five small hotels over five floors are to be found in the splendid red-brick Dammtorpalais building built in 1909. A hotel on each floor, and the hotel with the personal touch is on the fourth.

As well as The Bellmoor, there is Hotel Preuß, Hotel Fresena, Hotel Amsterdam and Hotel Wagner.

In the first part of the twentieth century, wealthy middle-class Hamburg families resided in Dammtorpalais in town apartments of up to 450 square metres. After the Second World War, the first of the apartments was transformed into a pension, and since 1978 the entire building consists of small hotels. Each with a different owner, each with a different style and character, but all with charm and style.

Below Hotel Bellmoor, on the third floor, is Hotel Fresena, decorated in a modern design, where the guests are predominently artists and sportsmen and women. Owner Katherina Füllenbach was previously in marketing for the ballet and opera. The walls of Hotel Fresena serve as a gallery for young artists. Here guests can borrow a bicycle and jogging route maps can be had free of charge.

In the lobby of Hotel Bellmoor there is an antique chandelier hanging from the high ceilings, a large fireplace dominates the foyer, and it still gives heat, however nowadays through a modern radiator.

The breakfast room was once upon a time a stately salon! Nowadays guests look through the large lattice windows over the city to the Michel Church. The tables are lovingly set with fine chinaware, silver cutlery and fresh flowers.

None of the rooms are alike, all are furnished differently, not luxurious, but comfortable. As opposed to other small, privately-owned hotels, the hotels in Dammtorpalais are not overly expensive. Prices begin at EUR 75.00 per room per night, and if a guest wishes to stay over a longer period, special rates can be negotiated.

The Bellmoor has the flair of the good old times. "We are particularly popular with the professors and lecturers from Hamburg University", says owner Jochen Rolcke. A regular guest is an ambassador´s wife. "I have stayed in a lot of the big hotels" she has told Rolcke, "but I feel at home here".

Hamburg residents also book at The Bellmoor: when they themselves have not enough space at home, but who need to be put up near the city centre. "And lovingly looked after" winks Jochen Rolcke. Some guests take the family treatment literally, and at breakfast tell the hotel owner their life stories...

The absence of amenities such as a lobby bar or room service doesn´t seem to worry the guests. At night a nightwatchman guards the door, drinks can be had from reception or from a vending machine. Guests can dine in the numerous restaurants in the neighbourhood, and the university cafeteria is very popular for those on a slender budget, says Jochen Rolcke.

To date he has only had positive experiences with guests. There has been one exception however. A swindler brashly worked her way from floor to floor. She began on the first floor, checked in, stayed overnight and left without paying. In this way she managed to work her way up to the fourth floor. Because of the fact that the hotels are independent of each other, her trick was only discovered by chance.